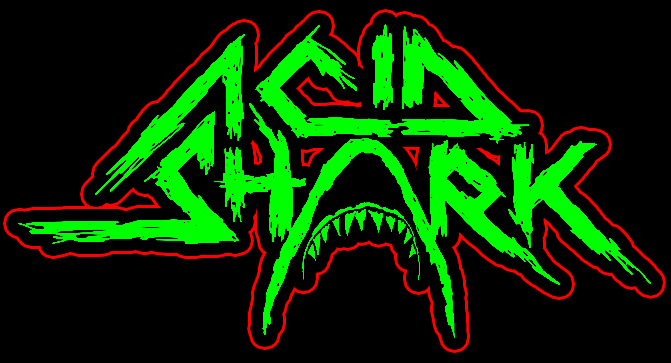 "The guitar sound on this is truly epic! Like crusty, grinding, world destruction,
Left Hand Path-style epic. While we only get seven minutes to savour,
it's enough to whet the appetite and instil eager anticipation of a future full-length.

The vocals are the weakest link here, initially lacking power, but becoming the
solid voice of Acid Shark by the end of the recording and on repeated listens.

Despite its relentless aural blitz, Bombs Away is catchy as hell. Strange for a
recording like this, and it definitely points to the Bristol trio having
expert grounding in the field."
4.5 RATING


"Acid Shark's three songs sound like Amebix if the crusty forefathers had
jettisoned all that maudlin crap about friends dying in motorcycle
accidents to pen more bangers in the mold of 'Arise!'"

"What sets Acid Shark apart from other similar bands is that
their songs have hooks; both melodically and rhythmically"

"…the songs are constantly developing and changing, so there is
always something new to pull out of them with each listen."


"…very comparable to classic metallic UK crust…"

"Very to-the-point, pissed off sounding and, surprisingly,
are playing in a vein that hasn't been touched in quite sometime"
"Bombs Away is a catchy little bastard with some good hooks."
"…crust-lovers and open-minded modernists will discover a
skillfully-delivered demo outing that forecasts good things."


"Guitars riffs are fast, intense and metal influenced, drumming is
viciously hyper fast reminding Terrorizer and Napalm Death,
vocals are yelled/shouted instead the usual grunts/growls
and put the band on the border of crust and grind'"


"Bombs Away goes back to a sound that is pre-Grindcore"

"A great little demo with a good production"

"While grazing landscapes Facebookianas, I came across a reference to
Demo Acid Shark, and I being a fanatic full by sharks, just for fun, I decided to take a peek.'"
"…a very interesting experience, I can say positive and funny."


"All groove is missing and the melodies and hooks are missing as well."

"…section Bombs Away shouted 'bombs away', so could just as well be singing the 'fish and chips'"."


band@acidshark.co.uk


facebook.com/acidsharkuk


youtube.com/acidsharkgrind


soundcloud.com/acidshark