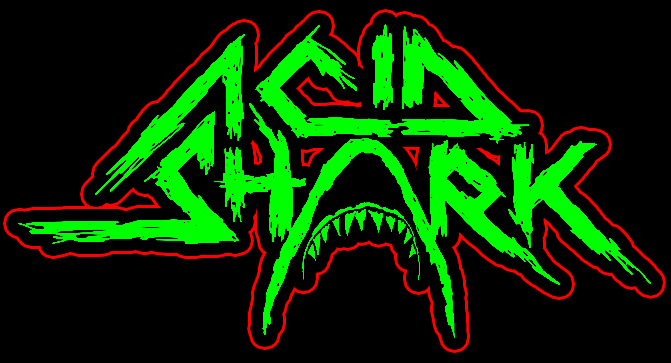 GRIND/METAL/CRUST/PUNK MAYHEM FROM BRISTOL U.K.
+++ 1 OCTOBER 2014 +++
4-way split tape with MyManMike/SYN/Prisoner 639 OUT NOW on Vleesklak Records!
Featuring two killer new Acid Shark tracks: SICK & TIRED and STREET TRASH
Listen below, and order the tape + MP3 download here.
Colour embroidered caps + patches also out now!
Finally, all proceeds from our merch sales during October 2014 (minus
postage costs) will be donated to homeless charity Crisis.
+++20 OCTOBER 2013+++
Our new FREE single called 'ACID SHARK' is OUT NOW!
DOWNLOAD it on our music page or just hit play below.

This is the first recording with our new vocalist Amer, who also did the
KILLER cover artwork – SHIRTS with this design available to ORDER NOW!
--------------------------------------

+++3 OCTOBER 2013+++
ACID SHARK SHIRTS ARE HERE - PREORDER NOW!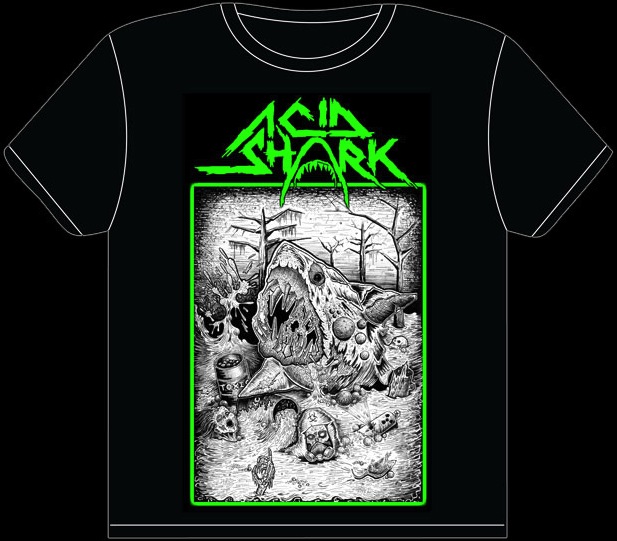 High quality shirts featuring incredible eye-popping artwork by our
multitalented vocalist Amer Shihab of Dead Arms Productions!

Thrill to the sight of the Acid Shark devouring all in its path,
leaving a trail of radioactive death and destruction as it
ploughs through nuclear waste-ridden waters!

Shirt orders include limited edition Acid Shark mystery merch,
so order ASAP while we've still got some.

Posters with a colour version of the artwork are also in the works.

More live shark attacks added to the gigs page.

--------------------------------------

+++SEPTEMBER 2012+++
We've had loads of great REVIEWS of our BOMBS AWAY demo!

We're on this awesome FREE compilation of UK grind/crust/powerviolence/fastcore bands

--------------------------------------

+++FEBRUARY 2012+++
Our three-track demo BOMBS AWAY is out
now as a FREE DOWNLOAD or DIY-packaged CD

We released a promo video for DROPOUT
And HOT NEON BADGES and PATCHES are go!



facebook.com/acidsharkuk


youtube.com/acidsharkgrind


soundcloud.com/acidshark


band@acidshark.co.uk